Sewage Backup in Northeast Georgia
911 Restoration of Northeast Georgia is the perfect choice for sewage backup cleanup in Northeast Georgia! We're experts in water damage restoration, fire and smoke damage restoration, odor removal, basement floods, sewage backup cleanup, disaster restoration, mold inspection, mold removal, and more! We're certified by the IICRC and we're here to help you get your home or business back to normal.
911 Restoration of Northeast Georgia
A sewage backup is a daunting disaster for any property owner. Toilet water damage or a burst pipe emergency can leave you dealing with raw sewage in your home or business. Yet, when proper sewage cleanup methods aren't followed, restoration may simply compound the problem. Our IICRC-certified technicians are trained in sewage cleaning and can perform all necessary steps for extensive toilet water damage remediation. Don't take chances with a job as complex and complete as this one. Professionals at 911 Restoration of Northeast Georgia will always apply what they know to prevent further destruction while making appearances of damage almost disappear entirely.
Begin Immediately Removing Sewage Water from Your Property

Use Infrared Scanners to Seek Out All Moisture Left Behind by the Sewage Spill

Utilize Professional Cleaning Equipment to Decontaminate Your Home or Business

Focus on Sewage Restoration and Totally Repairing Your Property
Our certified professionals will get your property to a Fresh Start!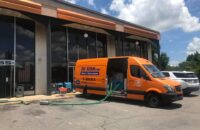 What To Expect With Sewage Backup Cleanup In Northeast Georgia
If you live in Northeast Georgia, you may be wondering what to expect if you ever need to have sewage backup cleanup done. This type of cleanup can be a bit different than other types of cleanup, so it's important to know what to expect.
First, it's important to know that sewage backup cleanup is a bit more involved than other types of cleanup. This is because sewage can contain harmful bacteria and viruses that can cause illness. For this reason, it's important to have a professional do the cleanup.
We will first assess the situation and determine the best way to proceed. We will then start the sewage backup cleanup process by removing any contaminated materials. This may include carpet, drywall, insulation, and any other materials that may have been in contact with the sewage. We will then dispose of these materials properly to prevent contamination from spreading. After all contaminated materials have been removed, we will sanitize the entire affected area to prevent the growth of mold and bacteria. Our sewage cleanup services in Northeast Georgia also include restoration services such as repairs and renovations. We can help you get your home or business back to its original condition as quickly as possible, so you can return to your everyday life.
Full-Service Sewage Backup Cleanup Company Near You
If you're looking for a full-service restoration company near you, look no further than 911 Restoration of Northeast Georgia. We are a leader in the restoration industry and have been helping customers with their restoration needs since 2006.
911 Restoration of Northeast Georgia offers a wide range of services, from water and fire damage restoration to mold remediation and more. No matter what your restoration needs are, we can help. We also offer a free assessment to help you determine the best course of action for your particular situation. Our IICRC-certified technicians are standing by!
A Water Damage Restoration Company in Northeast Georgia You Can Trust
911 Restoration of Northeast Georgia is part of a national franchise of 180+ locations across North America. We have been providing a Fresh Start to property owners since 2006!
If you are in need of emergency disaster water damage restoration services, please give us a call today at (762)247-2755!